FOMCES and Mineral County News
The inspiration began in 2010 when a local 11-year-old boy made history by selling his homemade, 4-layer chocolate cake for $500 (thank you Dillan), all of which he donated to the volunteers of Creede/Mineral County's Search and Rescue, Emergency Medical Technicians, and Fire Department. Every year since, FOMCES has continued to organize annual Fundraisings efforts. Here are some highlights!
Monte Vista Journal - July 17, 2020
The FRIENDS OF MINERAL COUNTY EMERGENCY SERVICES (FOMCES) recently distributed funds raised at our last Appreciation Dinner and Auction to Mineral County's Search & Rescue (SAR), Fire Department (FD), and Emergency Medical Services (EMS) organizations. FOMCES is a 501C3 non-profit organization supporting Mineral County's service volunteers and provided a total of $55,000 raised from the dinner, or $18,333 per group, to support the purchase of needed equipment and team training. The FOMCES Board would like to thank all in the valley that participated in purchasing tickets, providing items for the auction, and bidding and buying the many fabulous items offered.
Due to the Covid19 issue we have unfortunately had to cancel most of our 2020 summer activities including our popular golf and pickleball tournaments. We look forward to a happy and healthy town, county, state, and nation in 2021 where we can continue events supporting these valuable volunteer organizations that provide life-saving services to the entire community.
FOMCES board members include: Bob Holt, Carl & Joann Hill, Sandy Clark, Shai Zimmermann, Gidget Madix, Charlie Brown, Mark Hebert, Fred Hosselkus, Jim Adelman, Craig Wear, Al Clark, Robert Goodwin, Terry Wetherill and Larry Hilzer (not pictured).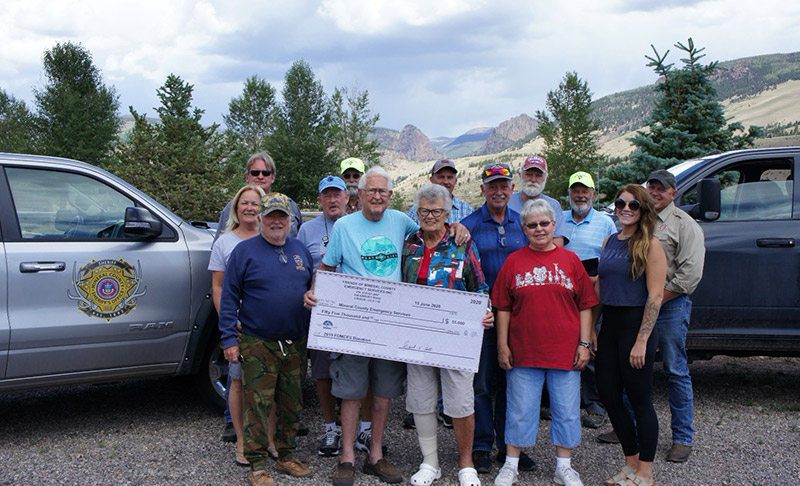 By: Lyndsie Ferrell - Updated: 1 year ago
Posted Aug 26, 2019
CREEDE— A line of people stretched around the outside of the Virginia Christensen Multi-Use Facility in Creede on Saturday as the bi-annual Mineral County Emergency Services fundraiser kicked off. "We were a little behind tonight due to an unforeseen issue with the gumbo dinner. Our volunteers are amazing people and have pulled together a full jambalaya dinner in merely hours," said Mineral County Sheriff Fred Hosselkus.
The day began as a normal day and volunteers from around Creede were getting ready for the event only to find out that the gumbo that had been prepared for the dinner had inadvertently gone bad. Instead of panicking, volunteers pulled together another amazing meal that consisted of freshly made jambalaya and all the fixings. The crowd was pleased with the change, several of which raved about the delicious meal.
The event was moved from the Underground Community Center to the old school gym and it turned out to be one of the best choices event organizer Carl Hill could have made. "We just outgrew the facility. We have so many people who come from all over the Valley for this event that we needed more room and it is a good thing that we decided to move," said Hill.
The building was packed during the event with people from near and far who came out to show their support for the emergency service personnel in Mineral County. The entrance to the main gym was lined with tables that were laden with donated items up for auction including the commemorative .22 caliber rifles that have become a tradition for the event.
Several local residents and guests also donated baked goods for auction and a 3D model of the proposed Search and Rescue Emergency Center as well as a virtual reality tour of the new building. Though final numbers for the event have yet to be compiled, Hosselkus and those who helped make the event possible are sure that this was one of the best years yet.
The proposed building would be built south of Creede near the Mineral County Airport and Creede School. It would provide not only a base for the Mineral County Search and Rescue team but offer a location for an emergency shelter in the event of an emergency. The building was designed by students from the University of Colorado out of Fort Collins, Colo.
"We just want to thank the people who take the time to put this together and for the generous people who come out and join us for this event. It is truly amazing to see this amount of support from our community and the Valley as well," said Mineral County Emergency Manager Terry Wetherill.
A huge thank you goes out to all of the people who helped make the event a huge success. A final count of the donations will be announced as soon as it is available.
Mineral County Miner
835 1st Ave. Monte Vista CO 81144
719-852-3531
Several volunteers from around the area worked really hard to prepare a last minute meal for the fundraiser event after the original dinner went bad, pulling out all the stops to provide a delicious meal.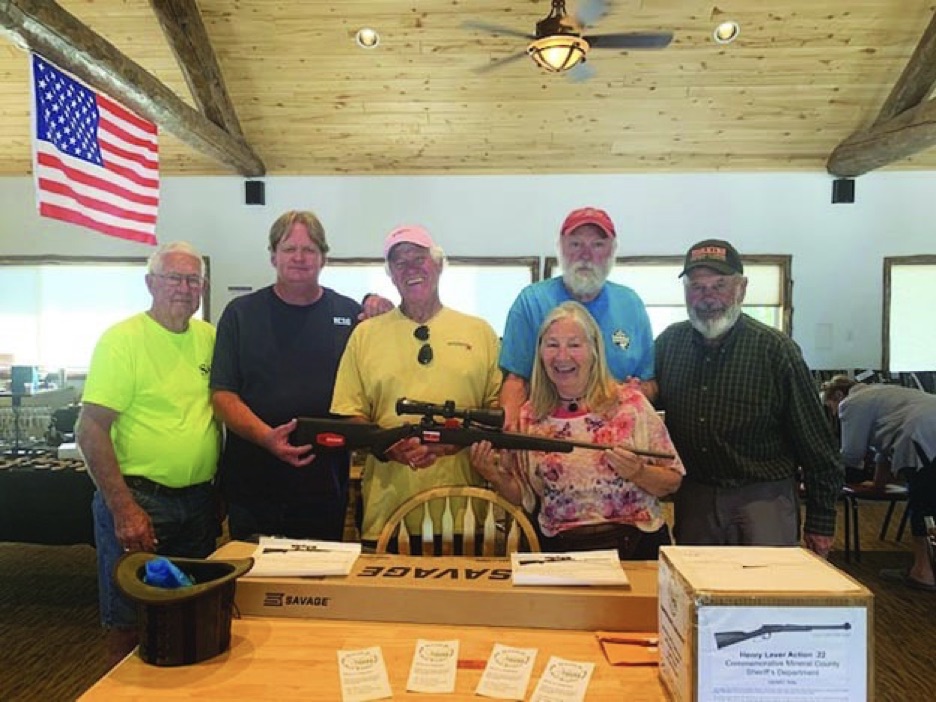 Raffle tickets were sold for the pictured rifle, to raise funds for Mineral County's emergency services, being held by FOMCES board and committee members, Carl Hill, Sheriff Fred Hosselkus, Dan Duffy, Margarite Holt, Al Clark and Robert Goodwin.
---
Posted Jul 26, 2019
CREEDE— On Saturday, July 20, the Friends of Mineral County Emergency Services (FOMCES), a non-profit 501(c)(3) organization, drew the winning ticket for a Savage Trophy Rifle with Scope. Tickets were sold to raise funds in support of Mineral County's emergency services comprised of the county's search & rescue, EMS and fire department teams. Five hundred tickets were sold, and Sheriff Fred Hosselkus drew out the winning ticket in front of an enthusiastic crowd at Mountain Views RV Resort in Creede. The winner was a nearby local – Carol Jones of Center. Congratulations, Carol.
FOMCES would also like to thank everyone that supported this by purchasing tickets and making donations.
Mineral County Miner
835 1st Ave. Monte Vista CO 81144
719-852-3531